08-08-2021
Exto, Winnaar kunstwerk van de week.
Beste Gerard Hendriks,
Gefeliciteerd!
Jouw inzending voor het Kunstwerk van de week heeft deze week gewonnen. Je wint hiermee 5 credits om te adverteren op www.exto.nl. Daarnaast wordt jouw winnende werk vermeld op de Facebook-pagina van Exto.
Met vriendelijke groet,
Het extoteam
Ambassadeur Blockx Aquarelverf
Blockx Ambassador for the Netherlands
10 juni 2021
Vandaag heb ik bericht gekregen dat ik een van de 100 geselecteerde kunstenaars ben die geselecteerd is om zijn aquarel permanent te exposeren in het International WatercolorMuseum Fabriano Italy.
I've been selected as 1 of the 100 artists whose artwork is going to be permanently exhibited in the International Watercolor Museum Fabriano, Italy
I am one of the artists participating in the exhibition ''We are Together'' a great exhibition is waiting to be seen from 19 -30 december in the IWS Sare Gallery , Moscow..
-------
2020 november 08
Geselecteerd IWS Art Contest Top 100
Zondag 16 Aug. 2020
Grizzly 76x 56 cm.
Zondag 19 Juli 2020
Mijn stilleven in Aquarel is afgelopen week Exto Kunstwerk van de week geworden.
zie onderstaande tekst.
exto.nl: Winnaar kunstwerk van de week!
Beste Gerard Hendriks,

Gefeliciteerd!

Jouw inzending voor het Kunstwerk van de week heeft deze week gewonnen.
12 juni 2020
Vandaag heb ik bericht gekregen dat mijn werk "Anemones" is geselecteerd voor de "exposition International d'Aquarelle" ,onderstaande Nederlandse kunstenaars werden ook geselecteerd proficiat allemaal.
Happy that my work "Anemones" has been selected for exposition International d'Aquarelle in cooperation with HCMC Vietnam.. congratulaltions to Jan Min, Carla de Korte-Bramsen,Hannie Rieuwerts , Rik Verdenius , Willemine Kellermann, Martine Kuijsten en Mia Koeneman.. of IWS Holland, who are all selected!!
Deze week heb ik enkele levensgrote Oehoe's geschilderd het is een genot om deze prachtige vogels te schilderen.
Mijn DVD is op mijn site te bestellen.
Mijn DVD Dieren in Aquarel is te bestellen op deze site
Op de DVD laat ik zien hoe je op een losse en kleurrijke manier dieren en vogels kunt aquarelleren, de DVD is Nederlands en Engelstalig ondertiteld.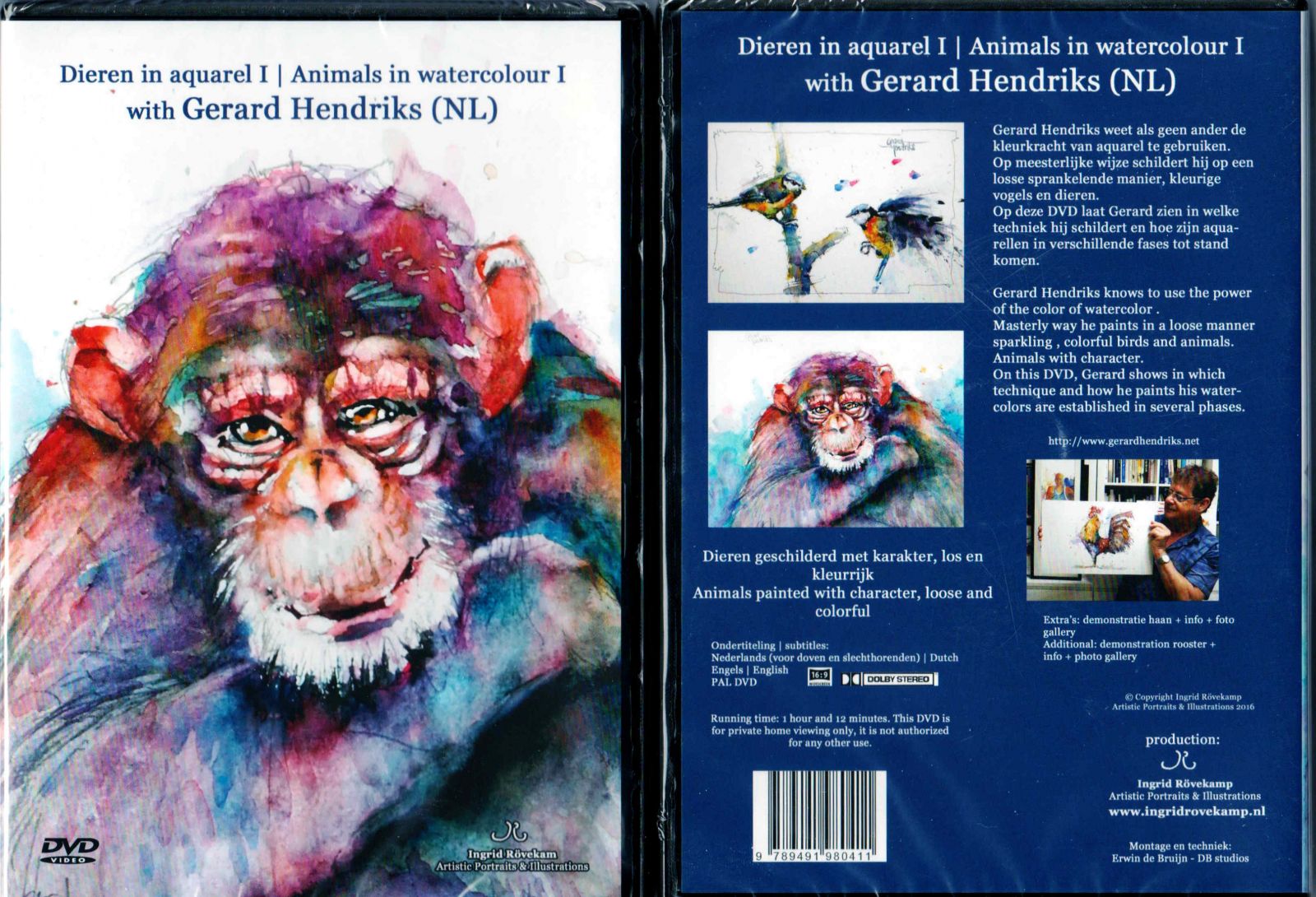 ________________________________________________________________
Hahnemuhle Kalender Wedstrijd 2017
De inschrijvingen voor de Hahnemuhle Kalender wedstrijd 2017 is van start gegaan.
Wereldwijd wordt mijn tijger-aquarel gebruikt op de promotiefolders en aankondigingen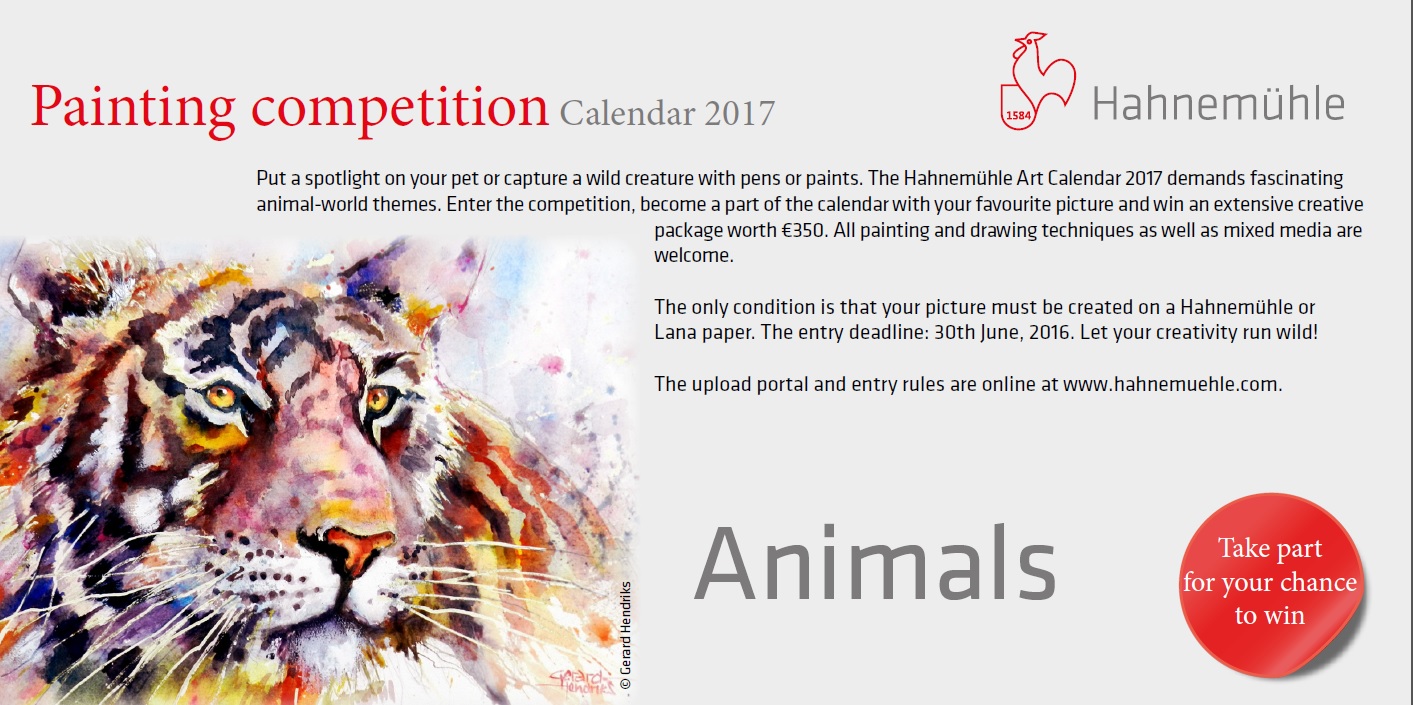 Mijn werk op de Hahnemuhle verzamelbox
A red-bellied apple, two ripe pears, a bouquet of white marguerites – a colourful still life painting by Gerard Hendriks decorates the Hahnemühle box filled with 30 watercolour postcards. It is the 9th edition of the postcard box, which is launched annually in a limited edition. The small metal boxes with the changing cover motifs have become a collectors' item. So, if you want to have your own little treasure chest with Gerard Hendrik´s painting filled with watercolour postcards be quick: we are selling 20,000 boxes worldwide.
Every year we ask a new artist to design the cover of the small metal box. The Dutch artist Gerard Hendriks paints a lot on Hahnemühle papers – such as the watercolour board Andalucia. He was thrilled by our request to paint the motive for the edition´s box 2016/2017. In a short interview he tells us why he also likes to paint in miniature on the 10 x 15 cm postcards (4.0 x 5.9 ") and to whom he would give the tiny box as a present.
Finalist of the Golden Turtle awards Moskow
I am delighted to have been selected as one of the finalists in the international wildlife art competition Golden Turtle Awards 2015 in Moscow. Finalists work will show at House of the Artists in Gorky Park before touring a series of museums in Russia.
Ik ben blij verrast dat ik een van de finalisten van de Golden Turtle Awards 2015 in Moskou ben. Er waren 12.000 inzendingen uit 99 landen, er zijn 38 finalisten waarvan ik er een ben met mijn werk '' Orang Oetan".
Het werk van de finalisten wordt tentoongesteld in het ''Huis of the Artist'' in Gorky Park Moskou voordat het op tournee gaat langs een serie , musea in Rusland. Opening 27 Februari 2015. Selected artwork ''Orang oetan 76x57cm.''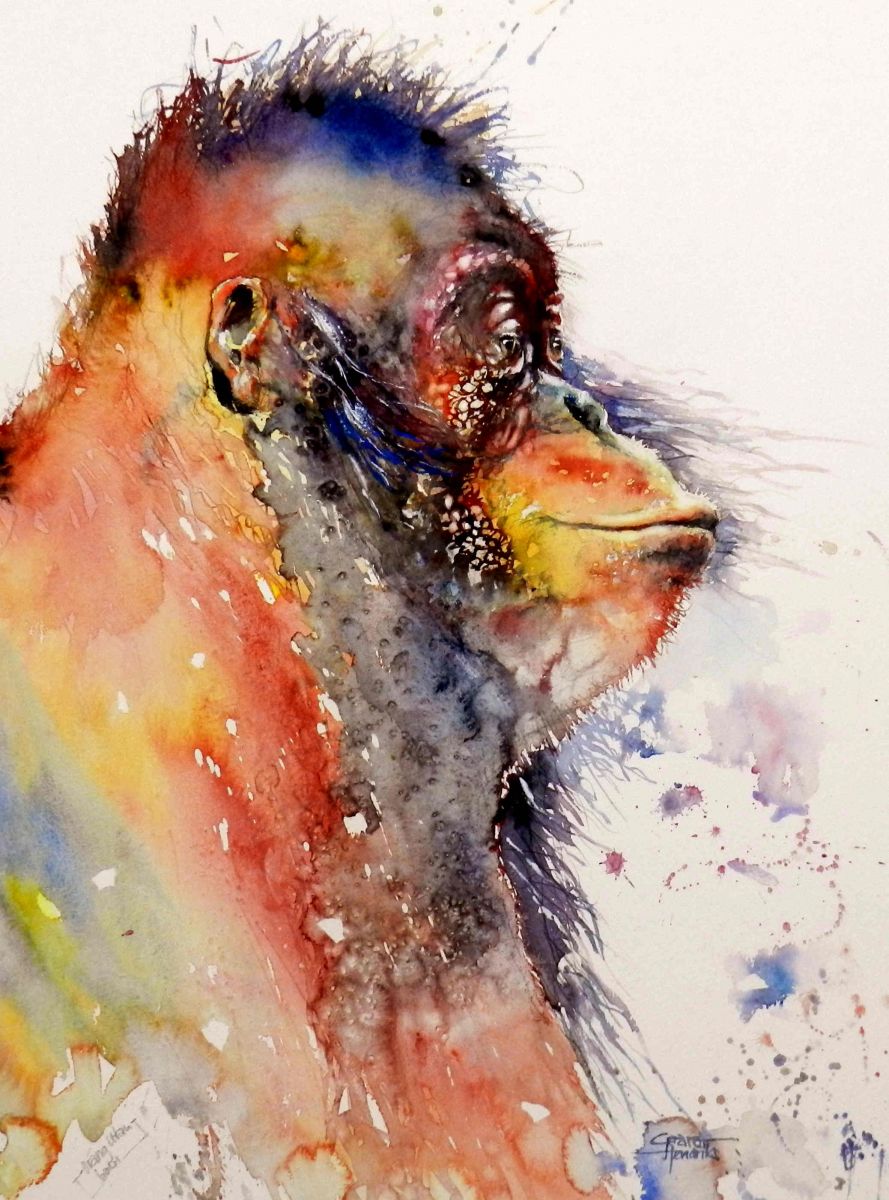 Juni 2013 Winnar Rembrandt Spring Contest
Als winnaar van de Rembrandt Spring Contest heb ik vandaag mijn prijs ontvangen 80 tubes Rembrandt aquarelverf, waar kun je een aquarellist nog blijer mee maken? As the winner of the Rembrandt Spring Contest
Dutch Cow een van de 50 beste Aquarellen in 2013
Mijn aquarel Dutch Cow is door de jury van het IWS, International Watercolor Society genomineerd als een van de 50 beste Aquarellen van 2013